For Sebastian Tyrala Christmas was early this year. On December 14, the 20-year old Borussia player gave his international debut - for Poland. This is the story of a highly talented youngster who seemed to have everything in front of him at the age of 17 and then all of a sudden found himself on the bench of the BVB amateur team...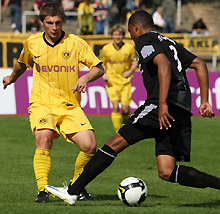 Sebastian Tyrala has learned how to play well in the Regionalliga.

28 June 2005: The B-Youth players Nuri Sahin and Sebastian Tyrala get called up to the professional roster of Borussia Dortmund only a few days after missing the German youth final in their age group. They skip the A-Youth team (for ages 17 and 18) and get close to giving their Bundesliga debut.

18 July 2005: In a battle for the ball with Jan Koller in practice, Sebastian Tyrala suffers a torn ACL, needs surgery and is out for more than half a year. While his best friend Nuri Sahin becomes the Bundesliga´s youngest player ever and also the Bundesliga´s youngest goalscorer ever, Tyrala needs to start almost from scratch. In April 2006 he suffers a meniscus injury.

In the Under-19 EURO 2006, Tyrala leads the German team into the semis with strong performances against Serbia and France. In the semi final, the Greeks score a last minute goal against the Germans and the big dream of European glory is over. Tyrala makes his first appearance for BVB in the Bundesliga with a "delay" of about one year on 22 September 2006 when BVB lose 1-0 at Gladbach. Six more Bundesliga matches are to follow, the last one so far being in the 3-0 home win over Cottbus on 25 August 2007.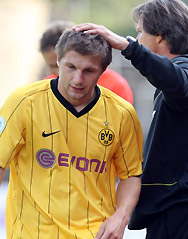 Theo Schneider has not lost his belief in Sebastian Tyrala.

But the 171 cm tall youngster has still not really made it in the professional BVB team. Under former coach Thomas Doll he was not given a chance anymore at the end. Even at the BVB amateurs, his performances get worse and under Theo Schneider he only has 19 caps in the Regionalliga with only one being for the full 90 minutes.

"Maybe it all came too early for him", Schneider says. In any case, the torn ACL "came at the worst of all moments". The fact that Tyrala skipped the A-Youth team altogether has become a problem. Schneider, who still believes in Tyrala, says that "he is missing some speed and physical fitness from that time".

In the current season with BVB II, the 20-year old has been constantly doing well. He scores important goals and takes important decisions. The German youth international, who was born in Ratibor in Poland, ditches Germany for Poland. Tyrala was invited by Poland coach Leo Beenhakker to a trial with a "perspective roster".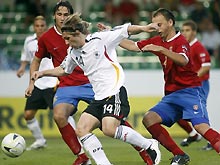 Swapped jerseys: Sebastian Tyrala (center) now plays for Poland.

In a test match against Turkish team Antalyaspor (3-0 for Poland), Tyrala had one assist and seems to have impressed Beenhakker. On 14 December 2008, Tyrala then gets his first official cap for the Polish national team in a 1-0 win over Serbia. "I played for about 60 minutes and the match was shown live on Polish TV. After the match, lots of friends and colleagues called my parents", Tyrala explains proudly.

However, Tyrala, who took his first steps in football with BV Bad Sassendorf before moving to Borussia Dortmund in 1999, has to fight with a language barrier. Poland is his home country, but German is his mother tongue. "Luckily, Leo Beenhakker also speaks German and not Polish. Apparently he had asked Mr. Watzke about me already. Now he knows who I am. And I assume he will still be the Polish national coach for the EURO 2012."

Tyrala does not think that he has a chance of making the roster for the WC 2010 in South Africa. "I only play in the 4th division with the BVB amateurs. That´s not satisfying for myself either. But at the trial in Turkey, the Polish Under-21 coach was also present." However, his coach at BVB, Theo Schneider, does not suggest changing clubs. "Sebastian has made and important step, but now he has to stabilize himself with us and reach a certain level and play well on a regular basis."

And maybe by next Christmas, Tyrala is back on the professional BVB roster. Who knows...